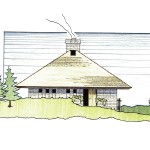 "I believe a house is more a home by being a work of art." Frank Lloyd Wright
Architectural styles wax and wane, the draughting studio, llc strives for a timeless, organic modern architecture in its designs.
Good design is intuitive, developing from the inside out, organically. The process starts with the clients needs and desires, and of course the sites parameters. Beginning with a general conceptual idea, it becomes the foundation from which all other design decisions are made. A purposeful logical order are the goals.
The project's unique client and site result in architecture.